by Convexity | Feb 3, 2022 | Convexity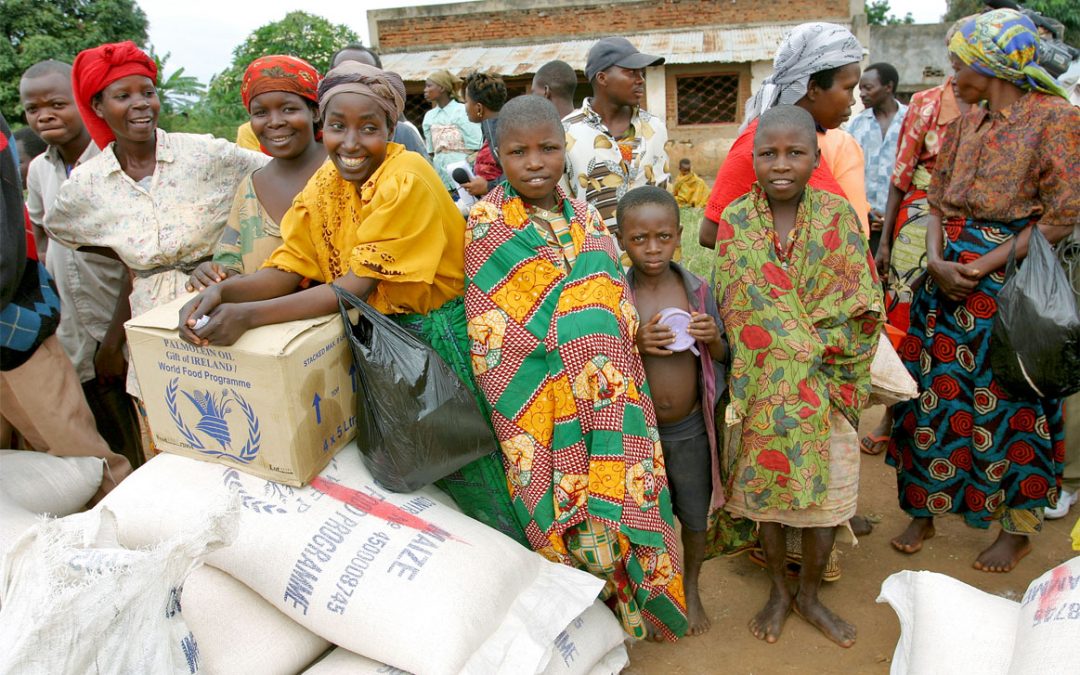 Natural disasters that cause human and economic crises are not new, even though modern media have changed how aware of them we are. Natural disasters may happen anywhere and at any time. They are very unpredictable and in most cases, a lot of casualties are recorded. This creates the need for an urgent response through financial aid donations by private charities, NGOs, Governments, or multilateral organizations.
Anyone shouldering the responsibility of supporting the vulnerable would be concerned about the way donated funds are being disbursed and utilized. NGOs, philanthropists, and every other humanitarian player all have this very same concern. They ask themselves a lot of questions like;
"Do our aid money get to the right hands?",
"Are we certain that it helped solve this crisis?",
"Are we sure we aren't being defrauded?"
"Is there fairness in distribution?".

As far as we know, no one has a 100% guarantee that their aid fund is being disbursed appropriately. At least, not until very recently. For countless years, donor organisations have been left in the dark about tracking their funds. This has raised questions, especially given the rising number of aid mismanagement cases.
Based on the current situation in the humanitarian space, it has become evident that there is a need for a solution that will offer control and visibility on aid distribution. A vivid example of the incidents driving this need is the devex.com report on aid being siphoned in the form of payments for ghost workers in Yemen.
Ultimately, this report pushed back the operation of donors in many countries including Nigeria. This prompted our decision to build the CHATS (Convexity Humanitarian Aid Transfer Solution).
ABOUT THE CHATS PLATFORM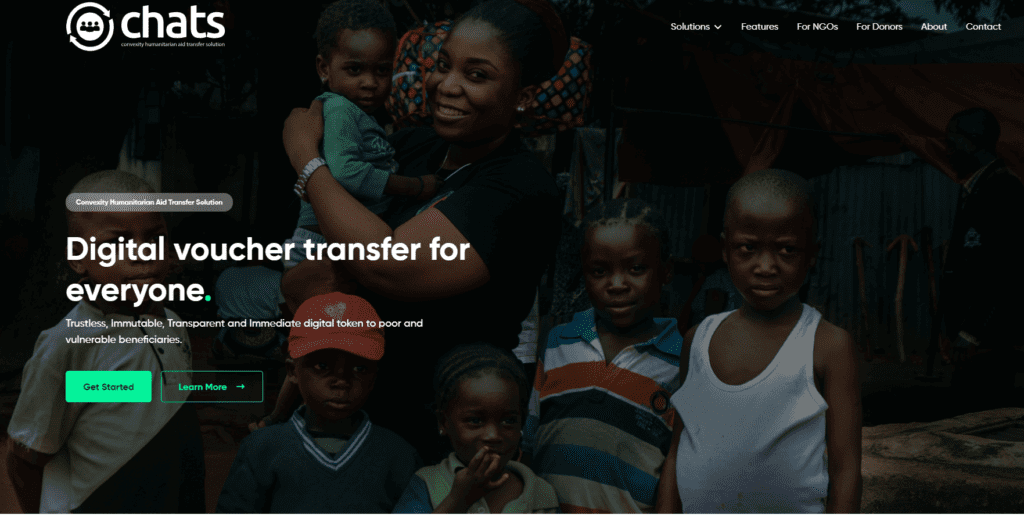 CHATS, a Convexity solution, is designed to enable donors, philanthropists, and concerned agencies or governments to provide conditional and unconditional voucher support to vulnerable or underprivileged individuals, households or communities. This unique product stands out for its innovative use of blockchain technology for the transparency of funds and immutability of beneficiary or project records/reports across the humanitarian space. It succeeds at combating fraud and providing visibility and assurance to donors, NGOs, beneficiaries, vendors of donation items etc.
CHATS creates a complete digital ecosystem for humanitarian players and activities. It engages the participation of Donors, NGOs, Field Agents, Vendors, and carefully selected and identifiable beneficiaries through specialized dashboards on the application.
HOW "CHATS" WORKS
Our approach is to create a trustless, immutable, transparent, and simple-to-use cash voucher assistant platform for poor and vulnerable communities. That way, distributing your cash voucher assistant can be as direct and straightforward as you always wished. The process involves registration and execution phases as detailed below:
Registration phase:
Comprehensive KYC verification for all platform participants, including donors, NGOs, field agents, and approved vendors will be conducted.
Field agents assist in the verification and identification of beneficiaries before onboarding them on the platform. Field agents are also responsible for educating beneficiaries on the project they will be benefiting from as well as discussing any relevant criteria or instructions.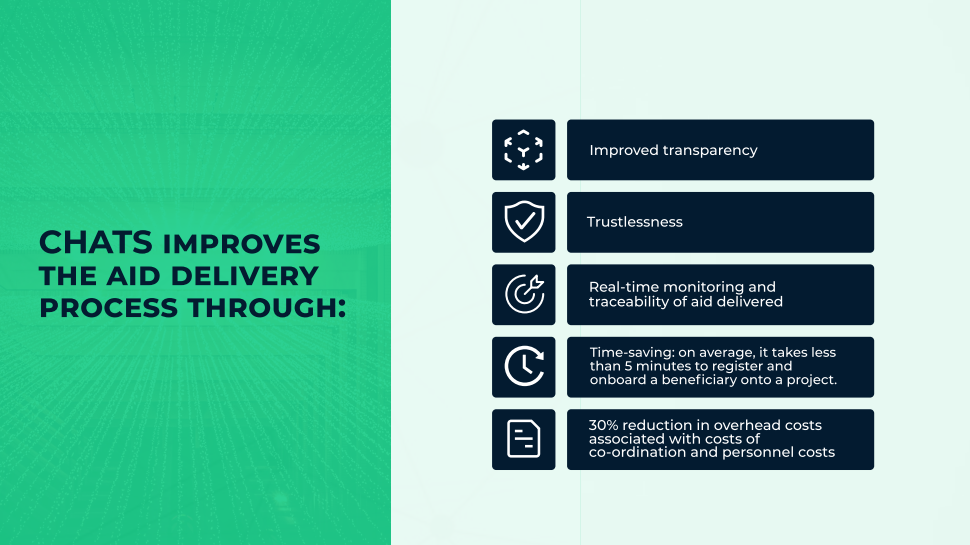 Execution Phase:
NGOs initiate projects on the platform, making them either public for any donor to fund or private if they already have funding or prefer a private donor. NGOs define project parameters like beneficiary groups, target regions, and more.
Donors can apply to fund public projects and receive transparent impact reports at the project's conclusion. These reports provide unaltered data on project processes, fund allocation, and aid item distribution, with NGOs as the project executors.
NGOs play a vital role in assessing and approving vendors for non-cash aid items, such as food, clothing, and medication. Additionally, NGOs vet and train field agents to use CHATS technology for identifying and capturing beneficiaries without access to smartphones. Technologically literate beneficiaries can also self-onboard through the beneficiary app if they have suitable devices.
NGOs disburse funds to beneficiary accounts on the platform, where they stay until beneficiaries choose to withdraw to their bank accounts (for funding donations) or purchase aid items from approved vendors. Beneficiaries with smartphones can transfer funds to vendors through the platform upon receiving items, while those without smartphones can use NFC cards or paper vouchers for transactions. Vendors release donated items to beneficiaries after the transaction is completed.
Donors have access to view the flow of money from the beneficiaries to the vendors. They also see what the beneficiaries specifically purchased in the case where there are different aid items made available through the vendors. This gives them clarity on the what and when of how funds are spent.
All records are taken on the CHATS platform, stored permanently on a blockchain, and can be easily understood when checked. With this, the Donor has no course for alarm since the platform allows for multiple campaign monitoring.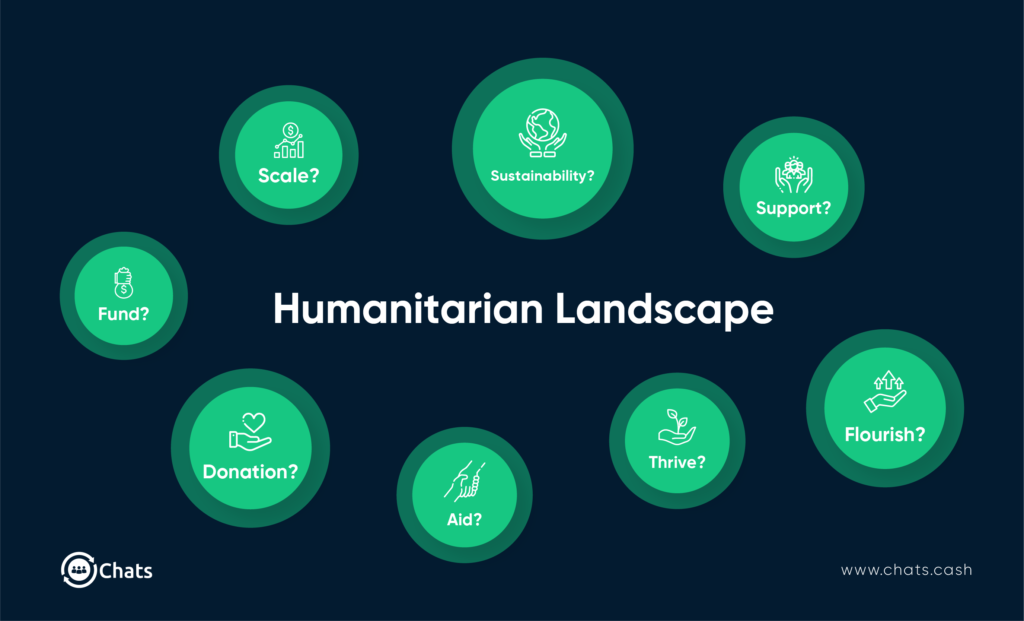 CONCLUSION
The results accompanied by this platform can help eliminate the doubts of donors who solely have the intention of making sure that their aid gets to the desired targets and is not diverted, this platform offers them the opportunity to seamlessly monitor their aid and help build struggling businesses in rural areas.
Using blockchain technology, the "truth machine'' has provided the transparency donors crave and ensured that nothing is missed out.

Sign up on CHATS to enjoy the benefits of trust for your projects and activities!
Email: info@withconvexity.com
Others: https://withconvexity.start.page