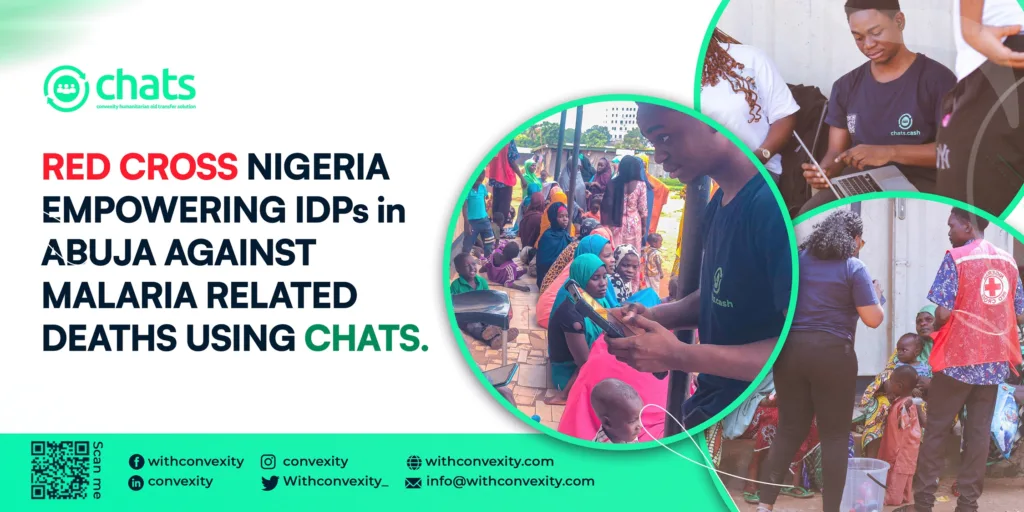 THE CAMPAIGN
Convexity and Red Cross Abuja chapter, Nigeria both partnered on an initiative to empower IDPs in Abuja against malaria-related deaths to more than 40 households in the Durumi IDP camp, Abuja. The ongoing project is designed to serve the vulnerable and less privileged residing in the Durumi Internally Displaced Persons camp. It has been a surreal feeling for the team of Convexity and Red Cross Abuja chapter, Nigeria, to see the impact in real-time and the priceless joy on the faces of beneficiaries. This initiative is proof that being humane is one act of kindness away.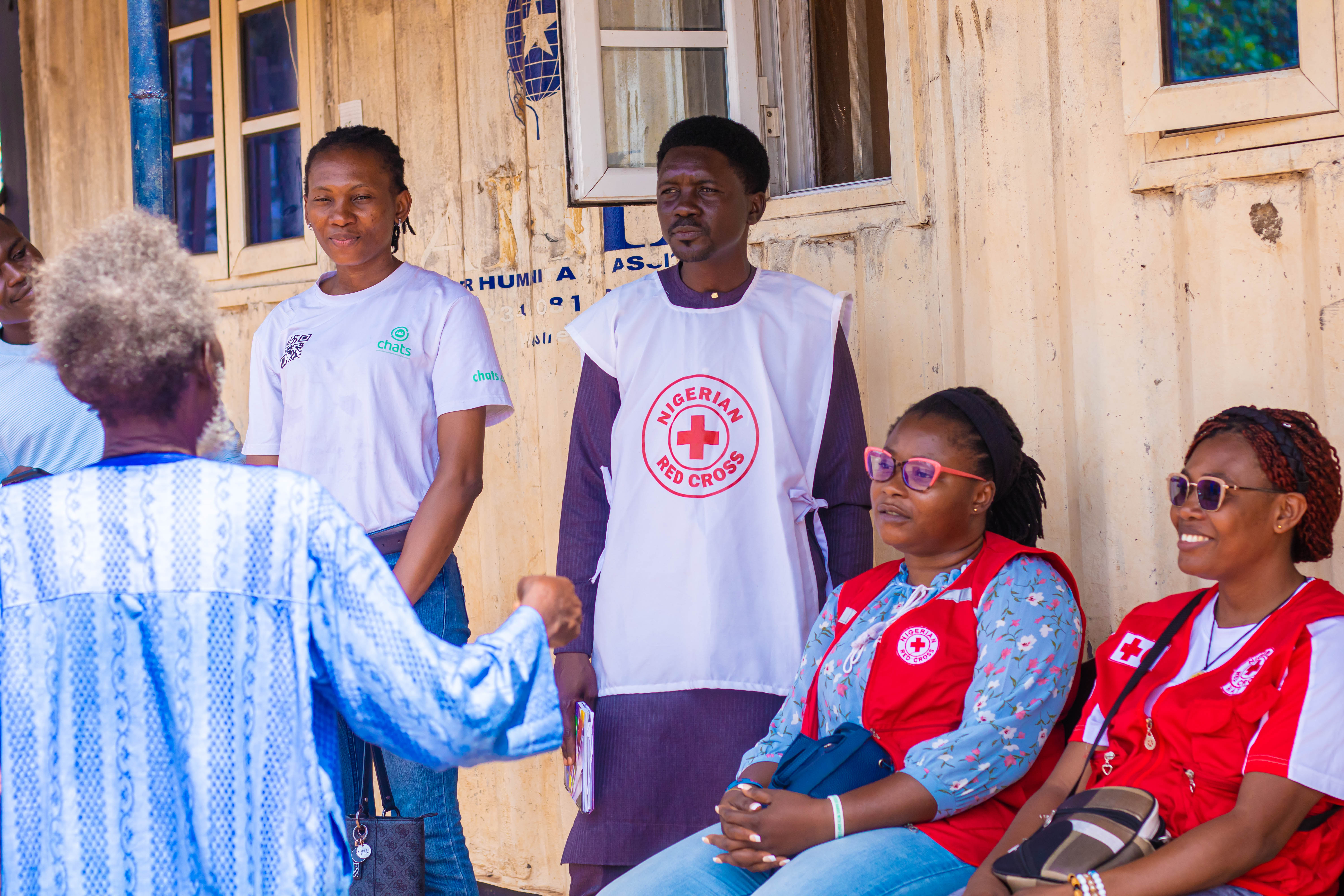 HOW CHATS WAS USED
CHATS was introduced as the technological backbone of the Durumi project. It served to provide a platform for efficiently identifying beneficiaries and organizing their information, initiating and recording the funding process, and finally, providing a trustable report.
Cash voucher slips were generated and issued to each unique beneficiary at the Durumi IDP camp project who were carefully selected by the Red Cross Nigeria team to fit the criteria of being households with pregnant mothers or children between the ages of 1 to 5 years.
The cash voucher slips contained QR codes that were electronically linked to the beneficiary details and their wallet accounts. After their QR code has been scanned by a vendor, a beneficiary would have to input their custom PIN before accessing their voucher slip information for transactions.
Pharmacies in their environs were also onboarded to the CHATS platform as vendors, for performing free malaria tests and distributing genuine anti-malaria medications.
The role of our CHATS platform was, therefore, to facilitate the transfer of funds from the project wallet to beneficiary wallets. These beneficiaries, when they fall sick, can go to any of the project vendor pharmacies to conduct free malaria checks. On testing positive, they will present their CHATS voucher slips as a means of payment for medication and treatment. The vendor will scan this slip through their CHATS dashboard app. At this point, the beneficiary will be required to input their custom PIN, granting access to their project account and wallet.
This triggers a transaction between the beneficiary and vendor wallets, completing the purchase action on the part of the beneficiary and the service action on the part of the pharmacy.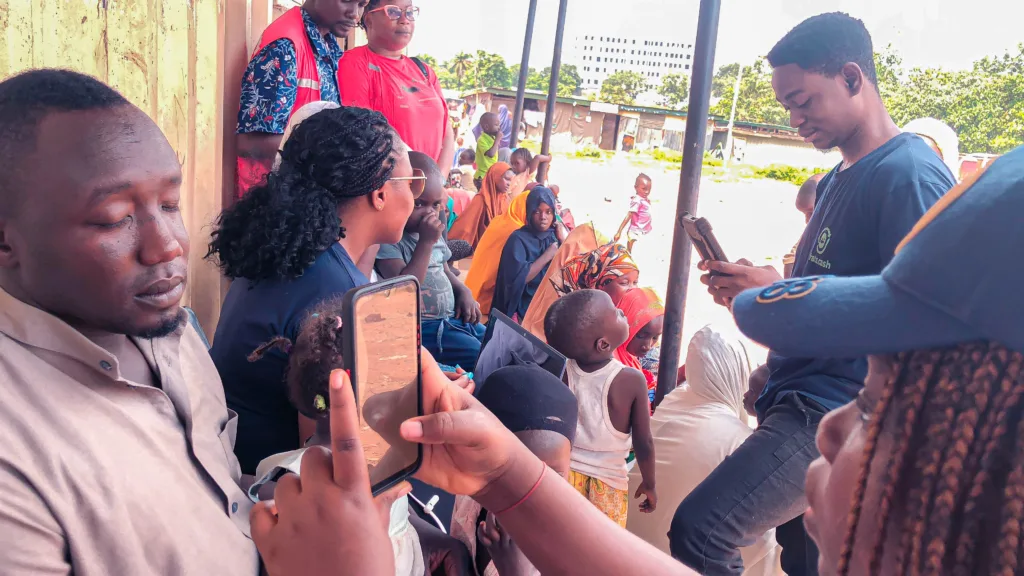 IMPACT OF THE REDCROSS X CONVEXITY PROJECT
The impact of the Red Cross Abuja chapter, Nigeria campaign is in three folds:
A direct impact on 43 households, giving them access to malaria treatments.
An indirect impact on every other household in the Durumi IDP camp, giving them access to free malaria checkups through the onboarded pharmacies.
An indirect impact on the Durumi economy, as funding is provided to households for malaria treatment and this moves to local pharmacies when the beneficiaries receive healthcare treatments.
INTERVIEWS AND TESTIMONIALS
Interview response from Ramatu Lawal (paraphrased):
"My name is Ramatu Lawal from Area 1 Durumi IDP camp. When my two children were sick, I went to get medication for them twice.I exhausted my wallet balance after the second time. I thank God and I thank the people that did the project because it really helped my children.'
Interview response from Zarah Muhammad (paraphrased):
"My name is Zarah Muhammad. I am from Borno State but I am currently residing in Area 1 Durumi IDP camp. I enjoyed the card given to me. I took it to the hospital and they gave me drugs. I used the card to collect drugs for my son. My son felt okay and I did not have to pay any money. I appreciate the people who organized the project and God will provide for them."
Interview response from Hafsat Umar (paraphrased):
"My name is Hasfat Umar from Area 1 Durumi IDP camp. I went to the pharmacy when my son was severely ill, he was administered medication and became better and I thank God for that. I am very grateful and want to say a big thank you to the RedCross and Convexity team for this project. It has really eased the burden of treatment for my children, especially in this present economic situation."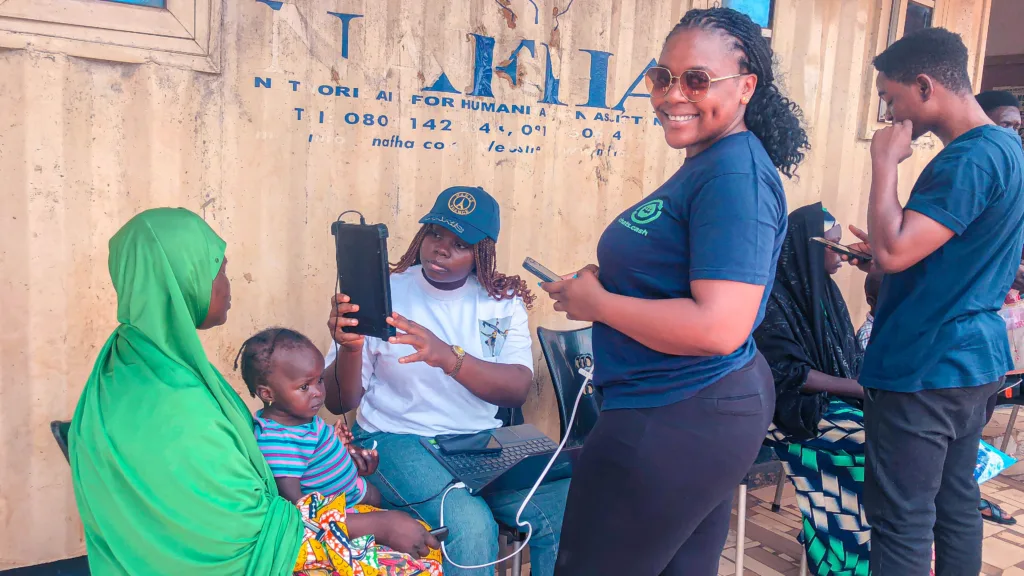 CONCLUSION AND CALL TO ACTION
The Convexity and RedCross Nigeria project is set to run for a period of 3 months. This timeline covers the last few months of the rainy season in Nigeria, significantly cross-checking the prevalence of malaria cases. So far, the project has birthed very emotional responses indicating that it fulfils the intention of impacting lives through healthcare service delivery. 
If you have or plan to run impactful projects that will involve cash and voucher programs, you can comfortably use CHATS for your end-to-end implementation and reporting.
Email: info@withconvexity.com