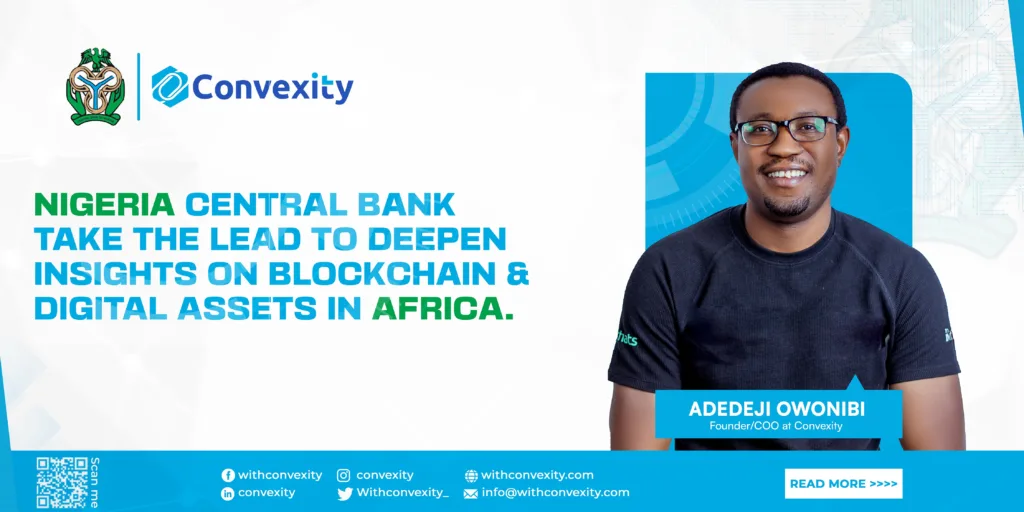 Central Bank of Nigeria: Deepens Insights on Blockchain/Digital Assets Regulation through Expert Training of Nigeria's Central Bankers
In the constantly evolving landscape of blockchain and cryptocurrencies, staying ahead of the curve requires adaptation and mastery necessary to make progressive decisions.
The Central Bank of Nigeria has stepped boldly onto this transformative stage, once again positioning itself as a leader, guiding regulations around the intricacies of the digital asset landscape and crafting effective monetary policies. 

The APEX bank invited Convexity, a turnkey Blockchain development and consultancy agency, The Central Bank recently orchestrated a groundbreaking five(5) days Blockchain training program, showing its commitment to advancing and leading the fast-paced global Blockchain ecosystem.
A Learning Journey Beyond Borders
Hosting this program is a testament to Apex Bank's commitment to making informed Blockchain and Digital Assets regulations.
The training was attended by officials from several departments including ➖
Payment Systems
Monetary Policy
Consumer Protection
Risk Management
Banking Supervision
Legal
Printing and Minting
IT
Wisdom Gleaned from the Experience
Enthusiastic discussions explored the impact of more open regulation – including financial inclusivity, cross-border transactions, and catalyzing blockchain investments.
Some common themes emerged:
How to navigate the delicate equilibrium between innovation and regulation.
The significance of nurturing innovation while safeguarding financial systems' integrity.
The importance of a cohesive regulatory framework, carefully orchestrated across departments, took centre stage, ensuring sustainable growth and consumer protection in the crypto realm.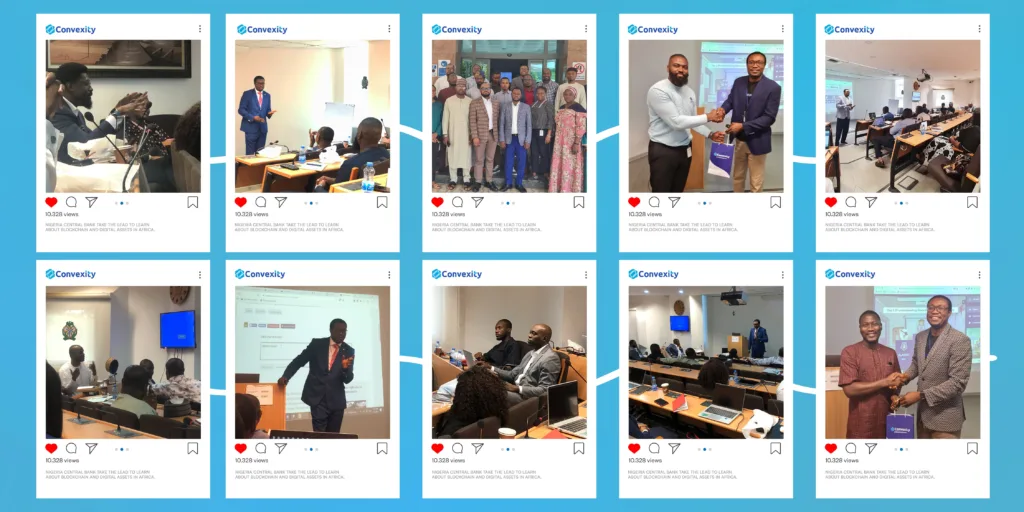 Pros of Open Regulation
The dedication exhibited by officials from various departments underscored the Central Bank of Nigeria's unwavering commitment to mastering blockchain and digital assets regulation. The apex bank's endeavour signifies a monumental stride towards the regulation of blockchain and digital assets for the betterment of all Nigerians.
With the program's continuation, participants will delve deeper into specialised regulatory facets, translating newfound knowledge into tangible action within their respective roles. This undertaking promises to be the cornerstone of a formidable regulatory framework, tailor-made for Nigeria's burgeoning digital assets ecosystem.
Enterprising Partnerships
Convexity invited several of her international partners to participate in the training including SettleMint, Hedera Hashgraph, Fireblocks, QLUE by Blockchain Intelligence Group, and Chainalysis. 

SettleMint's illuminating insights highlighted how blockchain can revolutionize banking processes, from fractional bond issuance to digitizing trade finance documents.
Fireblocks demonstrated cutting-edge digital asset custody infrastructure, powered by Multi-Party Computational cryptography (MPC), setting new standards for security and accessibility.
The training sessions explored digital asset custody intricacies, casting light on requisite infrastructure and regulatory frameworks. Exposure to innovative solutions from these partners equipped officials with a panoramic view of blockchain's potential within the financial sector, amplifying the importance of digital asset custody regulations.
Partnerships with industry stalwarts, such as QLUE by BIG and Chainalysis, enriched the training with invaluable tools for navigating the intricate landscape of crypto compliance and data analytics.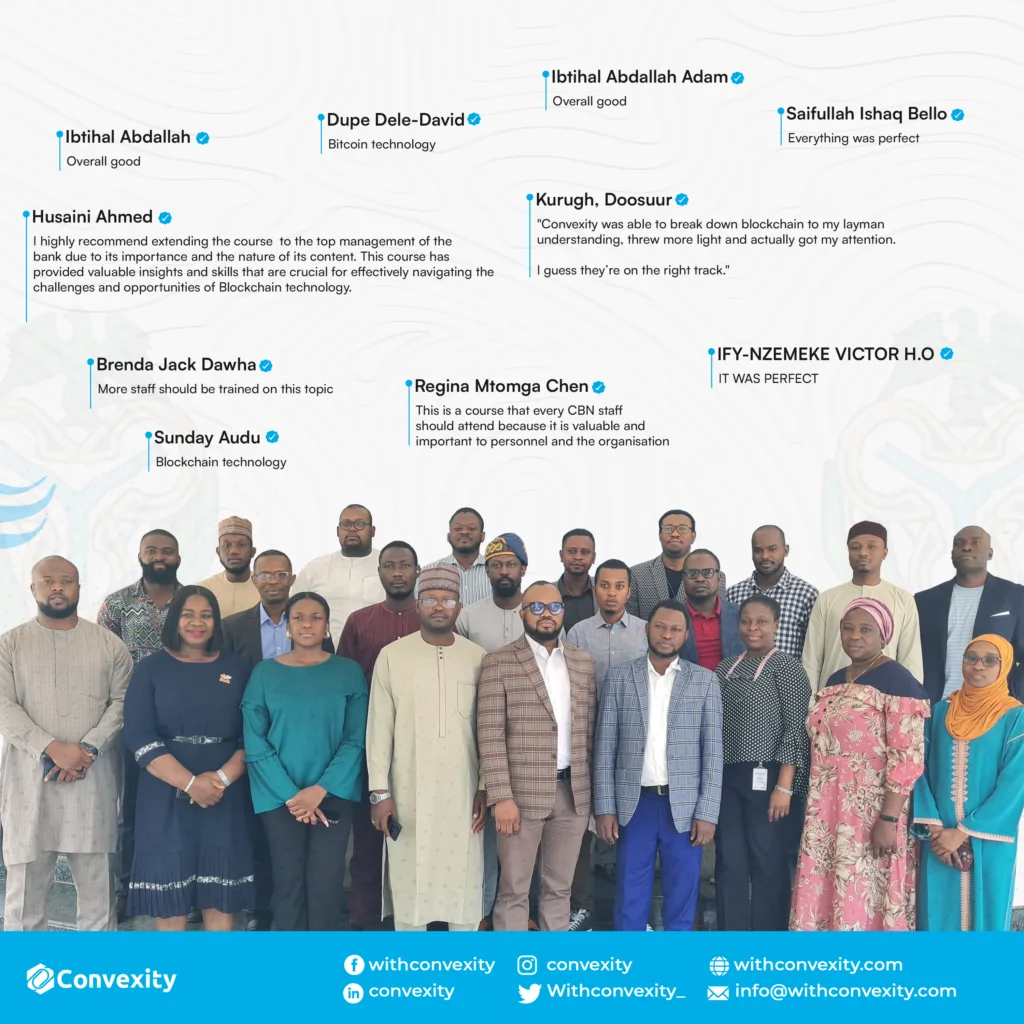 A Promising Conclusion
This proactive approach positions Nigeria as a guiding light, not merely adapting to change but sculpting the future contours of financial paradigms across Africa.
Nigeria's Central Bank, in synergy with Convexity, has achieved a remarkable milestone by being resilient, and innovative in mastering digital assets and blockchain regulation. This dynamic partnership has solidified Nigeria's leadership in blockchain expertise and digital asset governance.
As Central Banks across Africa follow the leadership of the CBN and adopt this forward-thinking strategy, they become a beacon of progress, actively shaping the financial landscape of Africa and the World.
Are you ready to lead Africa's financial transformation? Convexity is your expert and innovative partner in shaping the economic future of Africa.
Email: info@withconvexity.com
#CentralBankofNigeria #imf #papss #africanunion #bis #Blockchain #Convexity